Portable Document Format or PDF is mostly used to share read-only documents. However, a pdf can also be used as a form where you can perform write action too. Creating a fillable pdf is a very simple process and can be created easily using the Adobe Acrobat tool. But the problem with the Adobe Acrobat tool is that it is paid and requires a subscription to use the features of the tool.
But you don't need to worry because there are other methods and tools too that are available for free and which you can use to create a fillable pdf if you don't want to buy an Adobe Acrobat premium subscription.
Let us see each method in detail in the article below.
How to create fillable pdf without Adobe:
The methods we can use to create a fillable document include:
Using online tools.

Through free software.
Using Microsoft Word.
And using cheaper paid tools
Let us see how we can create a fillable pdf using these methods one by one in a detailed guide.
Create Editable PDF using online tools:
There are a lot of tools available online that will help you create a fillable pdf. The websites available on the Internet that provide this service are pdfescape.com, jotform.com, etc. Let us see one of the tools in detail to give you a detailed overview of how these tools work.
PDFescape is one of the best tools available and I would recommend you use this online tool because it has a better user interface and is easy to use. Also, it is free to use and most importantly you don't get a watermark even on the free version.
If you are not comfortable with using the tool on the web you can download its desktop app and install it on your computer. Let us see the steps:
Go to

pdfescape.com

and click on the

Free Online button

After you click a popup window will appear asking you to create an editable pdf from scratch or convert an existing pdf from read-only to writable.
If you already have a pdf then click on

upload to pdfescape

otherwise click on

create a new pdf document

and create the form and then download the pdf

However, if you already have a pdf and you just want to make it fillable then upload your pdf and click on the

form field

option in the top left corner under the

insert menu

.

Select the form type that you like from the drop-down menu and click on select. There are different form field options to select like Text, Text paragraph, checkbox, radio, dropdown, etc.
Drag the form field over the place you want to insert it and click on enter.
When you finish creating or customizing your pdf click on the save and download pdf button on the left-hand side.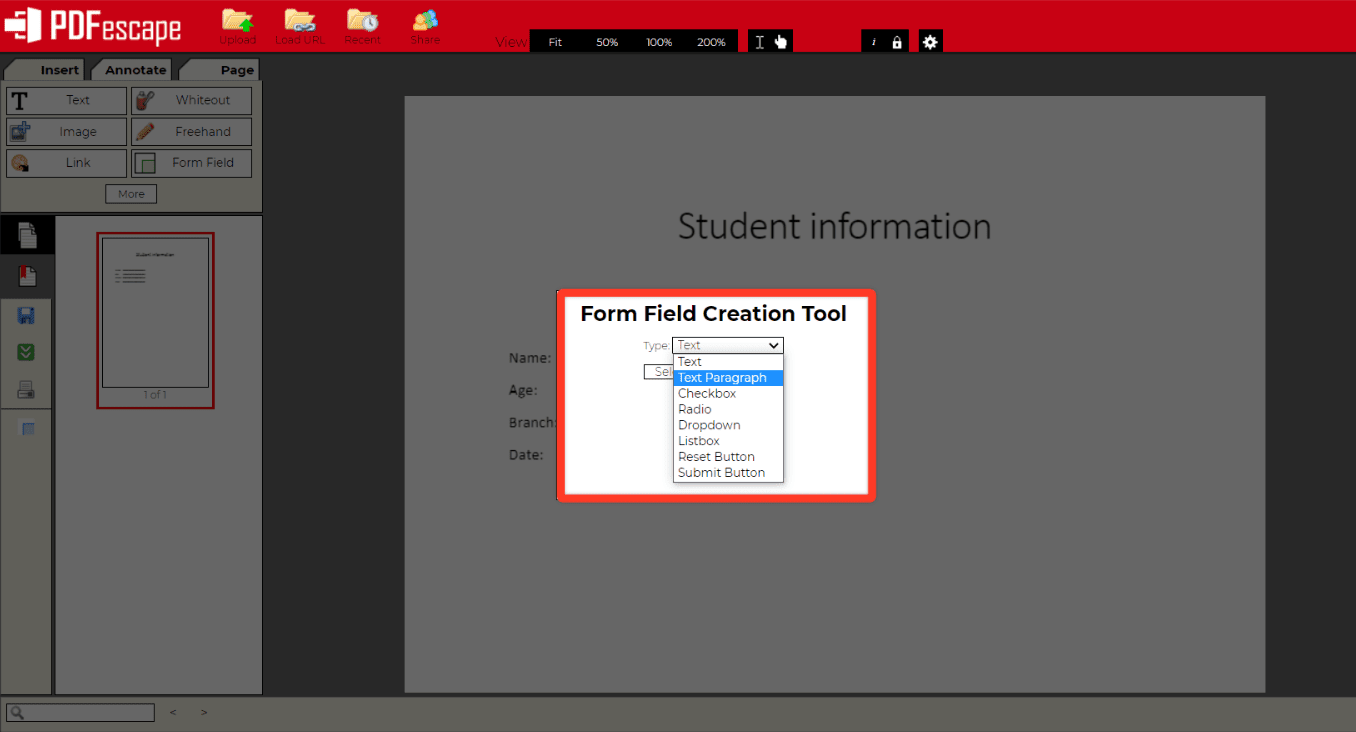 How to create fillable pdf using free software:
If you are having trouble using online tools to create a fillable pdf because of the internet you can download the tool and install it to create the pdf offline.
Using desktop apps have their own advantage, one of them is your data integrity. One of the tools that are recommended to be used to create an editable pdf is the pdfescape desktop app version.
It is only available for Windows computers. All the other available tools are either too complex to use or are paid or don't provide the required output.
To install it click on the Try desktop button to download the installer. Open the downloaded file click on next and wait till it downloads the main app for you.
As the download completes you can start customizing your pdf to make it writeable or fillable.
Make a pdf fillable using MS Word:
The only way to edit or fill a pdf using Microsoft Word is by converting the pdf to doc, editing your pdf, and then again saving it to pdf format.
To convert your pdf to doc or vice versa go to ilovepdf.com. MS Word doesn't have any inbuilt feature to convert your pdf from a read-only document to a writeable document.
However, you can create a form using MS Word and save it as pdf and then use other tools to make that pdf form fillable.
To start creating a form using MS Word you need to enable developer mode to do it follow the below steps:
Open the Word and click on the blank document and in that go to file.

Go to the Options tab in the last just below feedback or just right-click on the ribbon and select

customize ribbon.

In customize ribbon, under Main Tabs >>enable developer option and >>click on OK.
Now the Developer menu will appear on the ribbon. Go to the menu and start editing your document using the tools to create your form.
After you finish creating the form go to >>click on save as and >>select the file extension as pdf.
Last step >>go to the tools and get the pdf form converted to a fillable pdf form.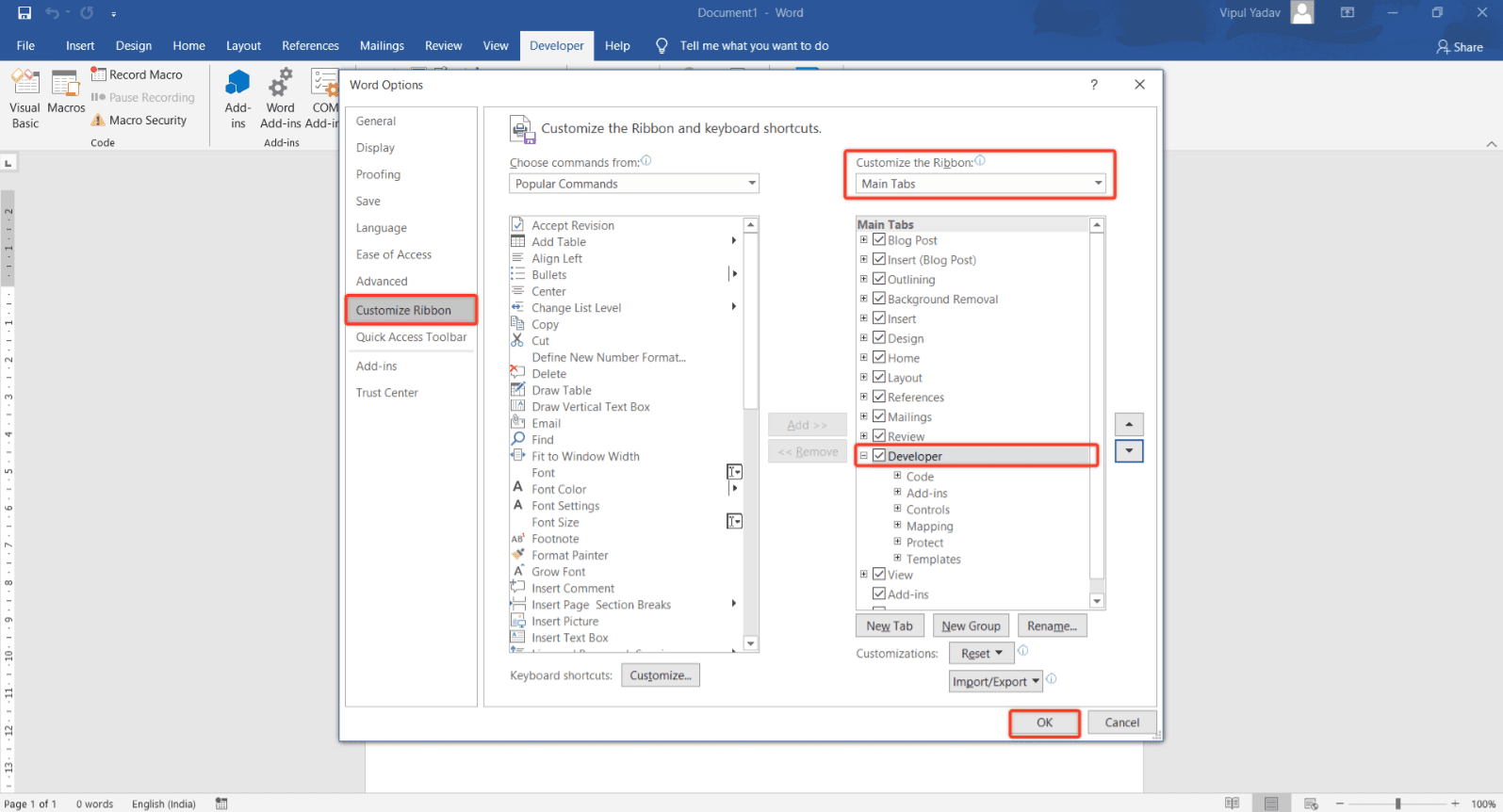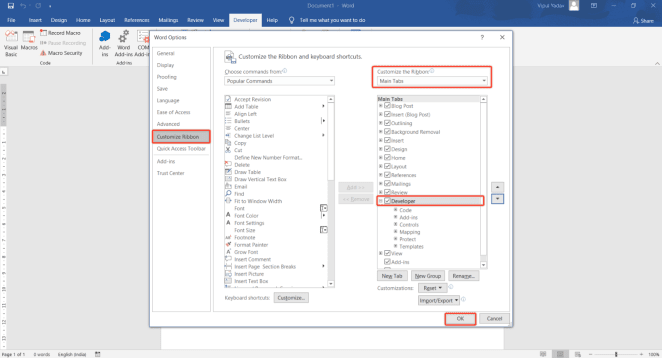 Create a fillable pdf using Cheaper Tools:
Another method that you can try to create a pdf that is editable or fillable is using a cheaper paid tool that does the same job as Adobe. I am saying this because most of the time the free tools do not produce the required results. Moreover, you will have access to a lot of pro features that you can add to your pdf while making it fillable.
One of the many tools that provide the same services as Adobe but are cheaper than it is nitro. You can buy the nitro pro to make a fillable pdf. It is a very simple tool and the UI is very easy and user-friendly.
FAQs:
Q. How to create a fillable pdf without Adobe Acrobat in mac?
A. You can use the online free tools to create a fillable pdf on mac without using Adobe Acrobat. Refer the above article for steps
Q. How to create a fillable pdf for free?
A. You can use the tools like pdfescape to create a fillable pdf for free. The steps to do it has been explained in detail in the above article
Wrapping up:
We have shown a few methods using which you can create a fillable pdf without using Adobe Acrobat. The methods are online tools available on the web, offline software, and using MS Word. So, if you are looking for how to create a fillable pdf without having to buy the premium subscription of Acrobat please read the above article.